When you need whiter teeth, there are many ways to go about it.  The best way, however, is to do it under the direction of a dentist.  There are three levels of professional tooth whitening St George Utah.  We hope you'll let us help you restore your whitest smile.
By the way, don't let worries about professional teeth whitening cost stop you.  We have three cost levels to meet your needs.  This includes two different ways to utilize a do-it-yourself professional teeth whitening kit.
Professional Teeth Whitening at Red Door: Why Choose It?
Level 1:  Clinical WhiteningTreatment
Fastest
Safest for gums
Best for advanced discoloration
Best for even results
Best for tooth sensitivity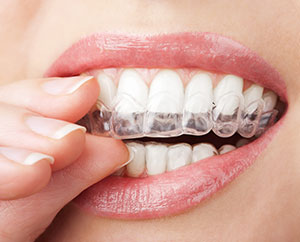 For faster results, nothing is quicker than an in-house treatment.  At-home treatments can take weeks.  This is the best approach for class reunions, family gatherings, weddings, or other important events. You want  your pictures to look good, and you want to look your best.  In one visit, we'll have your smile looking its best.
Delicate gums are a second reason to choose an in-house teeth whitening St George UT treatment.  Dr. Larsen and the Red Door team know how to protect your delicate gum tissue from the harm that bleaching products can do.
Advanced discoloration may be difficult to lighten.  However, with dental supervision, you've got your best chance to erase the stains and enjoy a whiter smile.
Uneven color is sometimes the result of at-home bleaching, especially when the dentist isn't consulted. That's because tough stains may not bleach out, leaving you with an uneven color.  Only a dentist can provide 100-percent professional results.
Level 2:  Professional Trays, Professional Product
Protect Gums Better
Don't need immediate results
Reduced professional teeth whitening prices
Much more effective than over-the counter
If you have discoloration problems, but you need to reduce costs, we have a great solution.  We recommend specially molded trays for your mouth.  With Boost Ultradont, you can do at-home treatments and get better results.  By making trays specifically for your mouth, we can help you do a better job at home. This includes protecting your gums better.
Level 3:  Professional Teeth Whitening Kit
Moderate or minor discoloration
No immediate gum disease or worries
Don't need fast results
Reduce professional teeth whitening prices
More effective than over-the-counter
If you don't have extreme discoloration problems, a do-it-yourself teeth whitening kit is definitely a way to go. You can use our system and get good results. Plus, you'll have our advice to go along with it. We can explain why it is important to protect your gums and how to guard against tooth sensitivity.
Other Teeth Whitening Considerations
Things to Do Before Professional Teeth Whitening in St George Utah
Get your regular dental checkup and tooth cleaning.You'll know everything about your mouth and can get professional advice about whitening products.  Plus, you'll start the whitening process with the cleanest mouth possible. That's sure to help with the results.
Ask the hygienist and dentist these questions
What types of dental work are in your mouth? Can they be whitened by a treatment?
How are your gums? Are there any dangers with whitening?
Is your tooth discoloration reversible? What is causing it?
Will products affect teeth sensitivity? How can sensitivity be avoided?
Find out options for specific teeth.
How can cosmetic dentistry assist you in restoring your smile?
Would veneers help your front teeth look better?
Can a specific tooth be capped or crowned for a better smile?
How can composite resin be used to handle a chipped or misshapen tooth?
At Red Door, we consider the beauty of a smile to be priceless.  We help many patients feel good about their smile. Sure, it's cosmetic dentistry, but it's important to self-esteem.
Please contact us for an appointment.